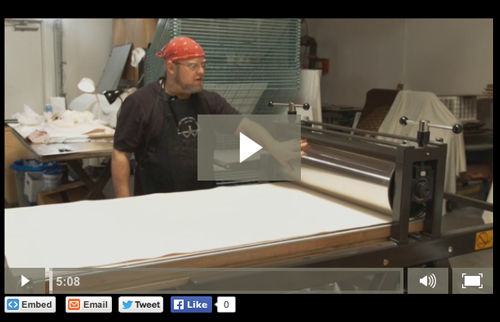 Photogravure Printmaking Video Series
Whether you are new to printmaking or a Master Printer, our polymer photogravure printmaking videos are sure to give you a leg up with the process.
Polymer Photogravure Platemaking Service for Printmakers
Intaglio Editions has been providing photogravure-quality polymer plates and printmaking services to printmakers and artists around the world since 2006. Our custom process for creating continuous tone plates has been met with high praise by our clients for nearly a decade. We offer our custom, pre-made high-resolution polymer photogravure plates at reasonable rates..
[an error occurred while processing this directive]
Intaglio Editions Plates Are Fragile!
Our archivally and tonally superior photogravure intaglio prints come at a cost: The stock plates we use are made of a special nylon polymer to capture the more delicate tones and nuances. Because of this, Intaglio Editions plates require special handling and care! Seasoned printmakers have noted our plates are considerably more delicate than zinc, copper, and even other polymer plates. This doesn't mean they can't be wiped vigorously. It just means the successful printmaker will want to be vigilant to ensure no grit, metal particles, or other foreign matter get dropped on the plate or get caught in the tarlatan and transferred to the plate during the wiping process. Because of the sensitivity of the media itself, plus our custom, high-resolution aquatint screen the superior tonal range comes with some risk. Since the dots on our plates that hold ink are finer, there is less polymer supporting the dots.
It's like the difference of rolling a bowling ball through a parking lot filled with 5 gallon drums filled with water spaced 5 feet apart vs. a parking lot of dixie cups filled with water spaced 5 inches apart. The 5 gallon drums will survive the bowling ball's assault more heartily than the dixie cups! This is why our plates scratch more easily. This is not to say they can't be cleaned vigorously, but the environment must be trusted to be free from sand, grit, metal shavings or anything hard or potentially sharp.
Since our plates do require careful handling, many artists new to printmaking may find it more affordable to have us print the work for them. Becoming a great printmaker is a skill that can take decades to master and tens of thousands of dollars of investment in the right equipment to get quality results. Even then, seasoned printmakers will need to take care to avoid scratching a valuable piece of art material. This is especially true of copper as well as polymer. Most of our customers quickly learn after visiting our photogravure printmaking video tutorials how to properly handle Intaglio Editions plates for optimal richness of tone, detail, and print mileage. Properly handled plates can be printed in editions of 50-100 or more with no noticeable degradation of quality in MOST cases.