File Preparation Instructions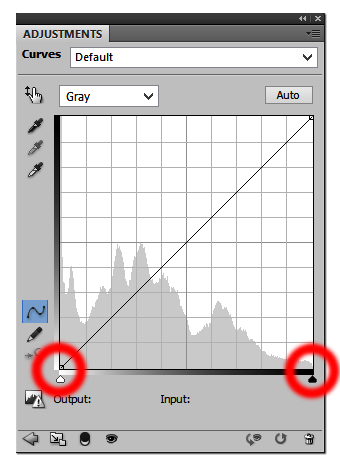 Image Preparation: Minimal Requirements
An image prepared properly for photogravure plate-making has a histogram showing adequate data in the darkest and lightest regions of the piece. You will want most images to have a histogram looking similar to the one represented on the left. Files must be 360 ppi, at 100% of their physical size. 16 bit files will benefit from greater tonality in most cases.
Files that don't meet these requirements may be returned to the client for correction which will delay your order. Save time and money by providing us with files using the following recommended workflow for optimal results. Please contact us if you have any questions about these steps and to discuss your project in more detail.
---
For optimal tonality we highly recommend the following method to prepare your files for submission:
Image Preparation: Recommendations for Getting Optimal Tonal Values
Acquire image as an RGB 16bit, 360 or 720 ppi, TIF. Set the black and white points right up to the head and toe of the histogram prior to scanning, if possible. Some scanning software allows for that.


Cleanup dust specks in your scan and make any composition changes prior to converting the profile to greyscale in the next step.


Convert (not Assign) RGB Profile to GrayGamma 2.2


Drop an adjustment curve onto your image. Set the Black and White points in curve (clipping around 5% in black and white areas is generally good for getting better contrast). If you are planning to print your Intaglio Editions plate using colored intaglio inks, you may want to allow for slightly darker shadow detail. Using black ink provides more native density to your image, so let us know if you are printing with black, darkly colored or light ink, so we can use the correct plate profile.


Modify Adjustment Curve as needed - tweak to taste, but leave the initial black and white points in place. Remeber, if you do not have 100% black or pure whites, you will have only grays, which are not much to look at without some pure black or white tones beside them.


Smart Sharpen to taste. Start with 100% Amount and 1px Radius (note that sharpening increases contrast and noise).


Flatten image, add a Threshold adjustment layer to view the amount of 100% density and 100% white in the file. Unflatten and adjust to ensure enough 100% black and white is present in the image, and that it lives in the areas you want it most, and that shadow details will not be buried.


Apply crop marks and guides with 1px line to indicate any cuts needed. Note that a border of at least 1cm is required between images when ganged up on a single plate.


You're all set! Submit the file to Intaglio Editions for verification along with the date you need the plate and whether you are printing it with black, darkly colored, or light inks. Once received we will verify and confirm your order.
Intaglio Editions offers plates up to 23 x 39" in size. Check out our current plate pricing!

Call us at (303) 818-5187 or E-mail to discuss your project today.
People

Services

Resources